Product Description
Product Description
Reduction ratio 31-171 double support structure Spur gear reduction machine Robot Gearbox
Spur gear reduction machine Robot Gearbox Installed with radial thrust ball bearings, so it can support external load, torque rigidity, large allowable torque, can reduce the number of components required, easy installation. The revolution speed of WRV gears is slower and vibration is reduced, which can reduce the motor structure (input gear) and inertia.
Spur gear reduction machine Robot Gearbox High precision, high rigidity, high torque, high load and other characteristics realize hollow design at the same time. After being hollowed out, the ease of use of the product is improved due to the variety of piping and cable layout options.
The Spur gear reduction machine Robot Gearbox is developed on the basis of the traditional needle wheel reducer. It not only overcomes the shortcomings of the general needle pendulum transmission, but also has more advantages, such as long life, stable precision, high efficiency, smooth transmission, small size, Light weight, large reduction ratio range, etc. This RV reducer from FUBAO adopts a double support support mechanism and a pinwheel mechanism, even if a torque up to 6 times the rated torque is applied, the product will not be damaged, and the torsional rigidity is very large. Small backlash, small volume, large torque. In order to directly support large loads, main bearings (large angular contact ball bearings) are installed inside.
Spur gear reduction machine Robot Gearbox mainly has the following characteristics:
A. Main bearing built-in mechanism
1. Improved reliability;
2. Total cost reduction;
3. Radial thrust ball bearings are installed, so they can support external loads, and the moment rigidity and allowable moment are large, which can reduce the number of required components;
4. The use of couplings and motor flanges makes the installation of the motor very simple.
B. 2-stage deceleration mechanism
1. Small vibration;
2. The revolution speed of the gear is slowed down, the vibration is reduced, and the direct connection part of the motor (input gear) can be reduced, and the inertia can be reduced.
C. Double column support mechanism
1. High torsional rigidity;
2. Strong impact resistance;
3. The crank shaft is supported by double columns in the reducer.
D. Rolling contact mechanism
1. Excellent starting power;
2. Small abrasion and long service life;
3. Small backlash (1arc.min).
Product Parameters
     WRD-E series
Specifications
WRD20E
WRD20E
WRD40E
WRD80E
WRD110E
WRD160E
WRD320E
WRD450E
Rated output torque
196
882
1666
2156
2156
3920
7056
8820
Reduction ratio
31~103
57~161
57~153
57~153
81~161
81~171
81~185
81~171
Backlash
<=1
     WRD-C series
Specifications
WRD-10C
WRD-27C
WRD-50C
WRD-100C
WRD-200C
WRD-320C
Rated output torque
686
980
1764
2450
8820
2 0571
Reduction ratio
81~243
100~233
109~240
101~258
106~245
115~253
Backlash
<=1
Detailed Photos
Application Case
Company Profile
HangZhou Fubao Electromechanical Technology Co., Ltd. was established in 2008, the company has a complete precision reducer design, production capacity. Set R & D, manufacturing, assembly and sales, more in the field of gear manufacturing has more than 10 years of background, in the manufacturing equipment is equipped with Switzerland Riesenhahl gear grinding machine, domestic Qinchuan gear grinding machine, hamai gear hobbing machine and domestic Xihu (West Lake) Dis. gear hobbing machine, Japan Yasaki TLGmazak CNC lathe, CNC milling machine and other fully CNC equipment, In addition, it is equipped with other advanced measuring equipment such as Japanese TTI gear detector, 3 coordinate measurement, reducer backlash measurement instrument and so on. In a strong manufacturing capacity at the same time, can be stable, continuous manufacturing of high-quality precision reducer products.
The precision reducer produced by our company has the characteristics of high structural rigidity, small back backlash, precise transmission and so on. It is widely used in various industries. Companies adhering to the concept of let customers participate in manufacturing, and strive to provide customers with more personalized services. In the field of precision transmission has a unique achievements. It is our CZPT pursuit to make far-reaching contributions.
Factory Display
FAQ
Q: Speed reducer grease replacement time
A: When sealing appropriate amount of grease and running reducer, the standard replacement time is 20000 hours according to the aging condition of the grease. In addition, when the grease is stained or used in the surrounding temperature condition (above 40ºC), please check the aging and fouling of the grease, and specify the replacement time.
Q: Delivery time
A: Fubao has 2000+ production base, daily output of 1000+ units, standard models within 7 days of delivery.
Q: Reducer selection
A: Fubao provides professional product selection guidance, with higher product matching degree, higher cost performance and higher utilization rate.
Q: Application range of reducer
A: Fubao has a professional research and development team, complete category design, can match any stepping motor, servo motor, more accurate matching.
Shipping Cost:

Estimated freight per unit.





To be negotiated
| | |
| --- | --- |
| Application: | Motor, Machinery, Agricultural Machinery, Robot Arm |
| Function: | Distribution Power, Change Drive Torque, Speed Changing, Speed Reduction, Speed Increase, Lower Rpm and Increase Torque |
| Layout: | Cycloidal |
Customization:

Available

|

Customized Request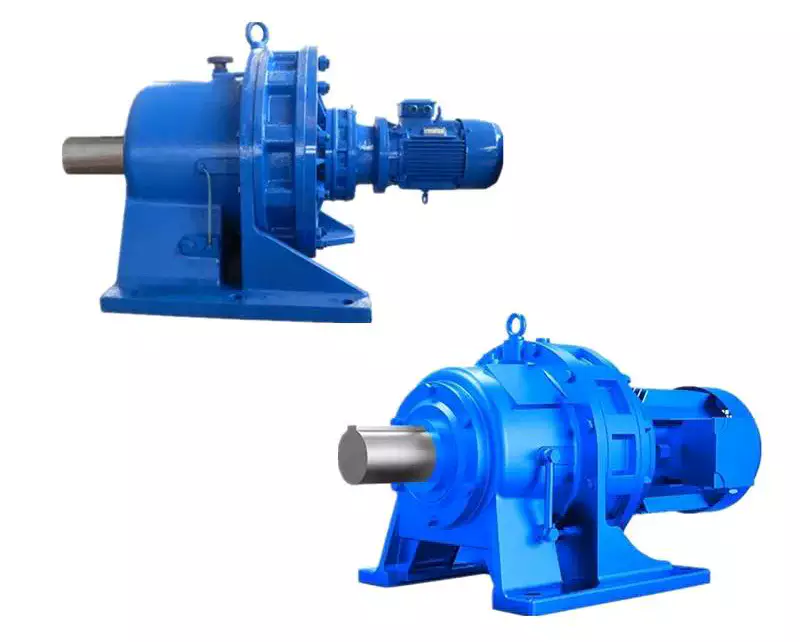 Developing a Mathematical Model of a Cyclone Gearbox
Compared to planetary gearboxes, cycloidal gearboxes are often seen as the ideal choice for a wide range of applications. They feature compact designs that are often low friction and high reduction ratios.
Low friction
Developing a mathematical model of a cycloidal gearbox was a challenge. The model was able to show the effects of a variety of geometric parameters on contact stresses. It was able to model stiction in all quadrants. It was able to show a clear correlation between the results from simulation and real-world measurements.
The model is based on a new approach that enables modeling stiction in all quadrants of a gearbox. It is also able to display non-zero current at standstill. Combined with a good simulation algorithm, the model can be used to improve the dynamic behaviour of a controlled system.
A cycloidal gearbox is a compact actuator used for industrial automation. This type of gearbox provides high gear ratios, low wear, and good torsional stiffness. In addition, it has good shock load capacity.
The model is based on cycloidal discs that engage with pins on a stationary ring gear. The resulting friction function occurs when the rotor begins to rotate. It also occurs when the rotor reverses its rotation. The model has two curves, one for motor and one for generator mode.
The trochoidal profile on the cycloidal disc's periphery is required for proper mating of the rotating parts. In addition, the profile should be defined accurately. This will allow an even distribution of contact forces.
The model was used to compare the relative performance of a cycloidal gearbox with that of an involute gearbox. This comparison indicates that the cycloidal gearbox can withstand more load than an involute gearbox. It is also able to last longer. It is also able to produce high gear ratios in a small space.
The model used is able to capture the exact geometry of the parts. It can also allow a better analysis of stresses.
Compact
Unlike helical gearing, compact cycloidal gearboxes can provide higher reduction ratios. They are more compact and less weighty. In addition, they provide better positioning accuracy.
Cycloid drives provide high torque and load capacity. They are also very efficient and robust. They are ideal for applications with heavy loads or shock loads. They also feature low backlash and high torsional stiffness. Cycloid gearboxes are available in a variety of designs.
Cycloid discs are mounted on an eccentric input shaft, which drives them around a stationary ring gear. The ring gear consists of many pins, and the cycloidal disc moves one lobe for every rotation of the input shaft. The output shaft contains roller pins, which rotate around holes in the cycloidal disc.
Cycloid drives are ideally suited to heavy loads and shock loads. They have high torsional stiffness and high reduction ratios, making them very efficient. Cycloid gearboxes have low backlash and high torque and are very compact.
Cycloid gearboxes are used for a wide variety of applications, including marine propulsion systems, CNC machining centers, medical technology, and manipulation robots. They are especially useful in applications with critical positioning accuracy, such as surgical positioning systems. Cycloid gearboxes feature extremely low hysteresis loss and low backlash over extended periods of use.
Cycloid discs are usually designed with a reduced cycloid diameter to minimize unbalance forces at high speeds. Cycloid drives also feature minimal backlash, a high reduction ratio, and excellent positioning accuracy. Cycloid gearboxes also have a long service life, compared to other gear drives. Cycloid drives are highly robust, and offer higher reduction ratios than helical gear drives.
Cycloid gearboxes have a low cost and are easy to print. CZPT gearboxes are available in a wide range of sizes and can produce high torque on the output axis.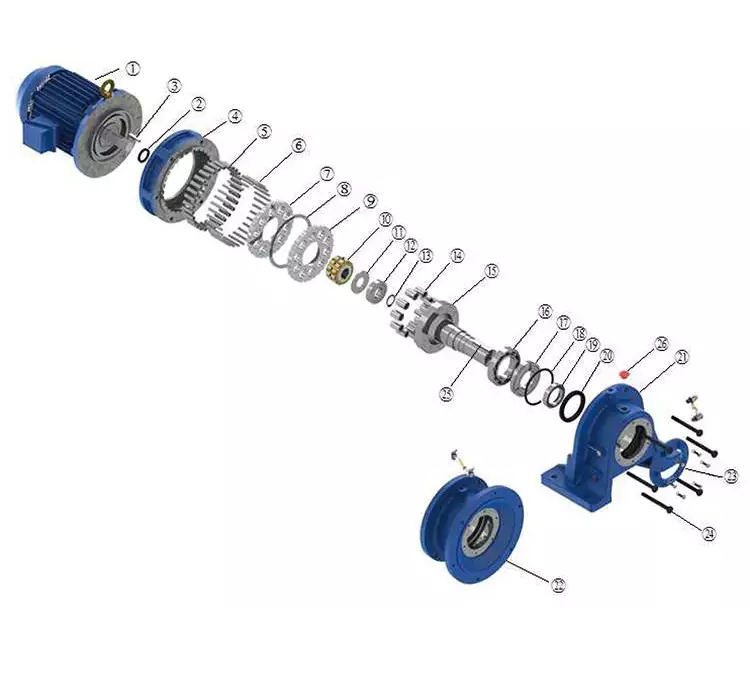 High reduction ratio
Among the types of gearboxes available, a high reduction ratio cycloidal gearbox is a popular choice in the automation field. This gearbox is used in applications requiring precise output and high efficiency.
Cycloid gears can provide high torque and transmit it well. They have low friction and a small backlash. They are widely used in robotic joints. However, they require special tools to manufacture. Some have even been 3D printed.
A cycloidal gearbox is typically a three-stage structure that includes an input hub, an output hub, and two cycloidal gears that rotate around each other. The input hub mounts movable pins and rollers, while the output hub mounts a stationary ring gear.
The input shaft is driven by an eccentric bearing. The disc is then pushed against the ring gear, which causes it to rotate around the bearing. As the disc rotates, the pins on the ring gear drive the pins on the output shaft.
The input shaft rotates a maximum of nine revolutions, while the output shaft rotates three revolutions. This means that the input shaft has to rotate over eleven million times before the output shaft is able to rotate. The output shaft also rotates in the opposite direction of the input shaft.
In a two-stage differential cycloidal speed reducer, the input shaft uses a crank shaft design. The crank shaft connects the first and second cycloidal gears and actuates them simultaneously.
The first stage is a cycloidal disc, which is a gear tooth profile. It has n=7 lobes on its circumference. Each lobe moves around a reference pitch circle of pins. The disc then advances in 360deg steps.
The second stage is a cycloidal disc, also known as a "grinder gear". The teeth on the outer gear are fewer than the teeth on the inner gear. This allows the gear to be geardown based on the number of teeth.
Kinematics
Various scholars have studied the kinematics of cycloidal gearbox. They have developed various approaches to modify the tooth profile of cycloidal gears. Some of these approaches involve changing the shape of the cycloidal disc, and changing the grinding wheel center position.
This paper describes a new approach to cycloid gear profile modification. It is based on a mathematical model and incorporates several important parameters such as pressure angle, backlash, and root clearance. The study offers a new way for modification design of cycloid gears in precision reducers for robots.
The pressure angle of a tooth profile is an intersegment angle between the normal direction and the velocity direction at a meshing point. The pressure angle distribution is important for determining force transmission performance of gear teeth in meshing. The distribution trend can be obtained by calculating the equation (5).
The mathematical model for modification of the tooth profile can be obtained by establishing the relationship between the pressure angle distribution and the modification function. The dependent variable is the modification DL and the independent variable is the pressure angle a.
The position of the reference point A is a major consideration in the modification design. It ensures the force transmission performance of the meshing segment is optimal. It is determined by the smallest profile pressure angle. The position is also dependent on the type of gear that is being modified. It is also influenced by the tooth backlash.
The mathematical model governing the pressure angle distribution is developed with DL=f(a). It is a piecewise function that determines the pressure angle distribution of a tooth profile. It can also be expressed as DL=ph.
The pressure angle of a tooth is also an angle between the common normal direction at the meshing point and the rotation velocity direction of the cycloid gear.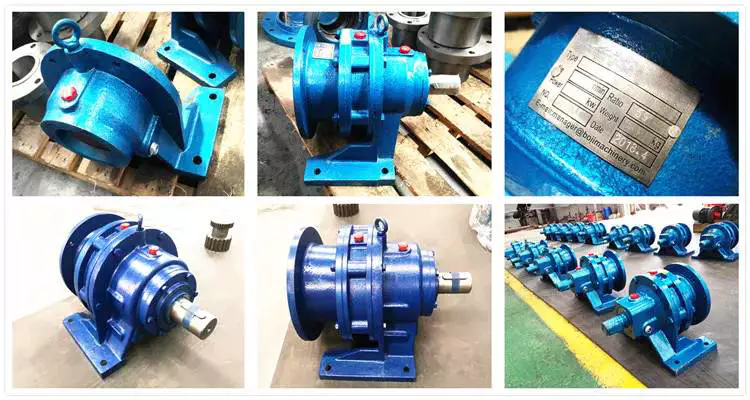 Planetary gearboxes vs cycloidal gearboxes
Generally, there are two types of gearboxes that are used for motion control applications: cycloidal gearbox and planetary gearbox. Cycloid gearboxes are used for high-frequency motions, while planetary gearboxes are suitable for low-speed applications. Both are highly accurate and precise gearboxes that are capable of handling heavy loads at high cycle rates. But they have different advantages and disadvantages. So, engineers need to determine which type of gearbox is best suited for their application.
Cycloid gearboxes are commonly used in industrial automation. They provide excellent performance with ratios as low as 10:1. They offer a more compact design, higher torque density and greater overload protection. They also require less space and are less expensive than planetary gearboxes.
On the other hand, planetary gearboxes are lightweight and offer a higher torque density. They are also capable of handling higher ratios. They have a longer life span and are more precise and durable. They can be found in a variety of styles, including square-framed, round-framed and double-frame designs. They offer a wide range of torque and speed capabilities and are used for numerous applications.
Cycloid gearboxes can be manufactured with different types of cycloidal cams, including single or compound cycloidal cams. Cycloid cams are cylindrical elements that have cam followers that rotate in an eccentric fashion. The cam followers act like teeth on the internal gear. Cycloid cams are a simple concept, but they have numerous advantages. They have a low backlash over extended periods of time, allowing for more accurate positioning. They also have internal compressive stresses and an overlap factor between the rolling elements.
Planetary gearboxes are characterized by three basic force-transmitting elements: ring gear, sun gear, and planet gear. They are generally two-stage gearboxes. The sun gear is attached to the input shaft, which in turn is attached to the servomotor. The ring gear turns the sun gear and the planet gear turns the output shaft.




editor by CX 2023-05-31